Auch im Juli sind wieder ein paar neue Flaschen dazu gekommen. Vor allem der Räumungsverkauf bei örtlichen Weinhändler mit den 20% Rabatt, hat mich dazu verleitet ungeplanter Weise Geld auszugeben. Eigentlich standen andere Flaschen auf meiner Wunschliste. Aber bei der unverhofften Gelegenheit musste ich natürlich zuschlagen. Allerdings merkt man bei der verfügbaren Auswahl, dass der Weinhändler öfters Tastings mit Michael Gradl aus Nürnberg macht. Der Anteil an Chieftain's ist recht hoch.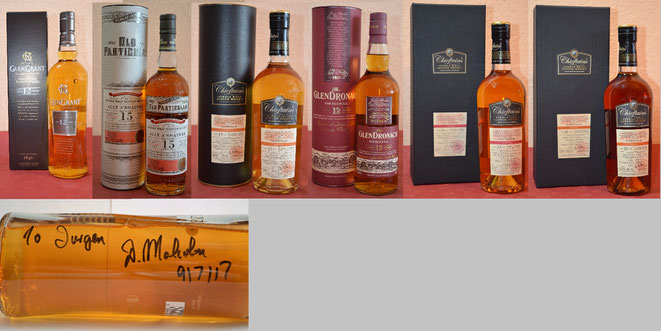 Bei unserem diesjährigen nationalen Treffen des Ambassador-Clubs gab es oben drauf noch eine Flasche Glen Grant 12 Jahre, handsigniert von Dennis Malcolm (Master Blender bei Glen Grant.
Hier nun die restlichen Neuzugänge im Einzelnen (die Notes dazu werden wohl nicht ganz zeitnah folgen, daher hier erstmal die Hersteller-Notes):
---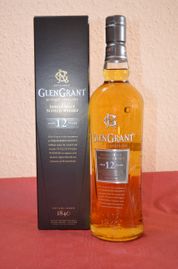 Glen Grant 12 Jahre
43% Vol. - Ex-Bourbon-Fässer - gefärbt - kühl gefiltert
Farbe: Strahlendes Gold.
Aroma: Honig, Birne und Apfel mit Anflügen von Mandeln und Citrus.
Geschmack: Der härter gebackene Rand eines Apfelkuchens, Karamell und Vanille.
Abgang: anhaltende Frucht mit subtilen Andeutungen von Gewürz.

---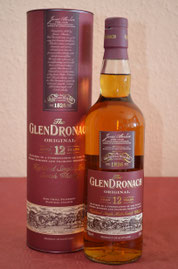 Glendronach 12 Jahre Original
43% Vol. - PX- und Oloroso Sherry-Fässer - nicht gefärbt - nicht kühl gefiltert
Farbe: Tiefes bernstein rot-gold.
Aroma: Süß, sahnige Vanille, mit Andeutungen von Ingwer. Gewürzter Glühwein und Birne.
Geschmack: Reichhaltig, sahnig, seidig-weich. Warm, reiche Eichentöne und Sherrysüße, volles Mundgefühl, Rosinen und sanfte Früchte.
Abgang: lang, voll und intensiv.
---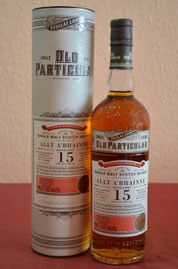 Allt-a-Bhainne 2000 15 Jahre Douglas Laing Old Particular
44,3% Vol. -  Tokaji Finish
Farbe: Bernstein
Aroma: fruchtig und süß mit Aromen getrockneter Ananas - dazu karamellisierte Orangen und Ingwer
Geschmack: Süße Noten von frisch Gebackenem, reife Bananen, Toffee und Milchschokolade
Abgang: lang im Abgang - süß-würzig mit Noten weicher, getrockneter Früchte - vor allem Feigen
---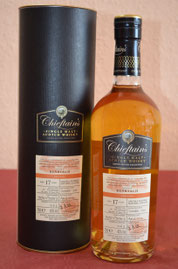 BenRiach 1996 17 Jahre Ian MacLeod Chieftain's
43% Vol. - St.Etienne Rum Finish - nicht gefärbt - nicht kühl gefiltert
Serge Valentin:
Colour: straw.
Nose: well, I'm afraid I quite like this nose, it's very fresh and fruity, and the rhum agricole from HSE seems to have brought notes of bananas and pineapples that perfectly complement Benriach's usual mangos and tangerines. This premix isn't very complicated, but indeed the fruitiness is very sexy.
Mouth: again, no dissonances, it's an engaging fruity malt, although there's rather more grass as well. Grapefruits, skins and peelings… The body's also more than satisfactory.
Finish: a little short, maltier, maybe a little bitter now. Touches of burnt sugar.
Comments: some friends are looking for easy summer malts these days. This baby's one worthy candidate
---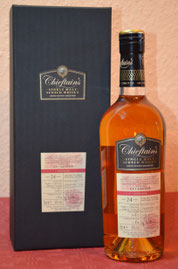 Clynelish 1990 24 Jahre Ian MacLeod Chieftain's
55% Vol. - Pedro Ximenez Sherry Finish - nicht gefärbt - nicht kühl gefiltert
---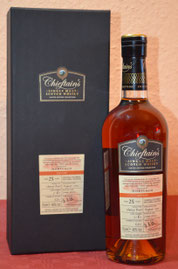 Mortlach 1990 25 Jahre Ian MacLeod Chieftain's
46% Vol. - Sherry Butt - nicht gefärbt - nicht kühl gefiltert
Tasting Note by The Chaps at Master of Malt
Nose: Cinnamon, brown sugar, diced raisins drizzled with rum, a touch of smoked meats.
Palate: Plum and red apple. More raisins develop, along with touch of chocolate biscuits.
Finish: Summer berries and Mocha. Simmering cooking spices.