Was passiert, wenn etwa 30 Whiskyblogger, YouTuber und Podcaster eine Burg mit Beschlag belegen, die sich Whisky Welt nennt. Richtig! Es entstehen eine Menge Videos und Berichte. Kaum waren mehr als zwei Vlogger vor Ort, wurden schon die ersten Sessions gestartet und die eine oder andere musste wegen Tonproblemen wiederholt werden. Warum auch nicht, wenn der verkostete Whisky doch so lecker war.

Aber nun mal von Anfang an. Wir Whisky-Berichter aller Medien wurden eingeladen von Bernd Ehbrecht von The Nine Springs im thüringischen Leinefelde-Worbis einen Tag und einen Abend in der Whisky Welt Burg Scharfenstein zu verbringen. Eingefädelt wurde das von Whisky Jason (Whiskey aus der Sicht eines Amerikaners). Hier schon mal gleich einen herzlichen Dank an die Beiden für den wunderschönen Tag.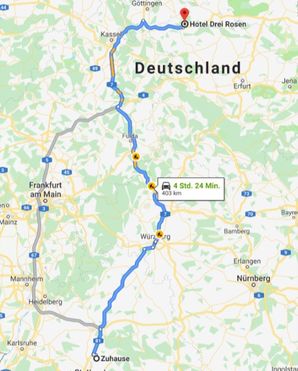 Am Samstag, den 18. Mai 2019 machte ich mich gegen halb zehn morgens auf den Weg Richtung Burg Scharfenstein. Immerhin waren etwas mehr als 400 Kilometer zurückzulegen.
Die Vorfreude auf das Treffen war sehr groß. Ich war wirklich gespannt darauf, all die (facebook)-Freunde kennenzulernen, mit denen ich mich bisher nur über die sozialen Medien unterhalten konnte. Die einzigen, die ich, vom letztjährigen Treffen bei Marco Bonn (->Link), bereits kannte, waren Jason und Norman (später gesellte sich dann auch noch zu meiner erfreulichen Überraschung Julia Nourney zu uns).
Nach etwa viereinhalb Stunden bin ich am Hotel in Leinefelde-Worbis angekommen. Einquartiert war ich im Hotel 3 Rosen. Ein nettes, anständiges Hotel mitten im Ort.
Im selben Hotel waren die meisten anderen 'Kollegen' auch untergebracht. Am Hoteleingang traf ich auf Norman. Auf dem Parkplatz waren André Lautensack und Dominik Köppel mit seiner Verlobten schon mit Whiskyflaschen zugange.
Als ich nach dem Einchecken auf die Terrasse kam, war schon die erste Video-Session im Gange. Dominik, Norman und André hatten bereits mit der 'Arbeit' begonnen.
Am Nachmittag stand der erste offizielle Programmpunkt des Tages auf dem Plan. Die Besichtigung der Brennerei unseres Gastgebers Bernd. Der ausführliche und durchaus beeindruckende Rundgang führte uns vom Maischebottich über die Brennanlage bis zum Fasslager und wurde durch viele Informationen und Geschichten von Bernd sehr kurzweilig gestaltet.
Mit einem Bus ging es anschließend zur Fortsetzung der  Führung auf die Burg Scharfenstein, in die von Bernd errichtete Whisky Welt. Hier wird seit Neuestem der Feinbrand von The Nine Springs hergestellt. Auch ein zweites Fasslager ist hier entstanden, wenn auch nicht ganz ohne Stolpersteine seitens der Bürokratie.
Neben der Produktion und Lagerung ist auch so etwas, wie ein 'Lehrpfad' entstanden, der Interessierte in die Welt des Whiskys einführt.
Nach diesen informativen Programmpunkten ging es zum gemütlichen Teil des geplanten Programms über. Halt, nein, noch nicht ganz. Für die filmenden Kollegen gab es jetzt erst mal Arbeit. In gefühlt jedem Winkel entstanden kleine Filmstudios. Kameras und Mikrofone wurden aufgebaut und es wurden Verkostungsvideos und Berichte aufgenommen, in allen bekannten, aber hauptsächlich in vollkommen neuen Besetzungen der Protagonisten. Selbst ich, als kamerascheuer Mitbewohner dieser Welt tauche in einem Video auf. Genau das war ja auch mit ein Ziel dieser Veranstaltung (zumindest aus meiner Sicht). Spontane, laufend wechselnde Kleinprojekte, quasi Jeder mit Jedem.
Nach dem leckeren Abendessen, wurde noch angeregt über den deutschen Whisky diskutiert und es gab Abfüllungen von The Nine Springs zu Verkosten (vielleicht auch schon zum Teil vor dem Abendessen ;-) ). 
(Hier hatte ich dann auch aufgehört zu Fotografieren und greife deshalb hier auf ein paar Bilder von Norman zurück)