Nach den Serien 'sujet' (Macduff, Fettercairn, Tobermory) und den 'Nymphs of Whisky' (hier verkostet Cambus, Ben Nevis) bringt whic eine weitere Reihe mit eigenen Abfüllungen unter dem Namen 'Architecture of Taste'. Den Anfang macht dieser 21-jährige Aberlour. Anders, als man es in der Regel von Aberlour gewohnt ist, kommt dieser Whisky nicht aus Sherry-Fässern sondern reifte diese Abfüllung in einem Hogshead, welches zuvor Bourbon enthielt. Abgefüllt in Fassstärke und ohne Farbstoff. Insgesamt gibt es hiervon nur 122 Flaschen. Auch das Etikett ist wieder ein Hingucker.   
Über die neue Serie Architecture of Taste schreibt whic:
'Geschmack setzt sich aus vielen Komponenten zusammen. Das Fundament bildet dabei die richtige Fasswahl. Oftmals vernachlässigt, aber meist der Grundstein für großartige Aromen in unserem liebsten Getränk, sind Bourbonfässer. Der Aberlour 21 Jahre aus der Architecture of Taste Reihe zeigt die ganze Klaviatur der Bourbonfassaromen. Wir legen hier das Auge auf Abfüllungen, die sich durch ein ungewöhnlich intensives Aroma profiliert haben. Der Geschmack steht hier absolut im Mittelpunkt.' 
Da meine Vorliebe derzeit eher den reinen Bourbon-Fass-Abfüllungen ohne weiteren Schnickschnack gilt und Aberlour zudem zu meinen bevorzugten Brennereien zählt, habe ich, hier im Gegensatz zu der letzten Nymphs-Ausgabe, sofort zugschlagen.
 
59,8 % Vol.  - Ex-Bourbon-Hogshead - 122 Flaschen - nicht gefärbt, nicht kühlgefiltert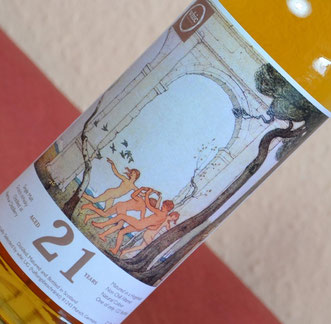 Farbe: Kräftiges Gold.
 
Aroma: Zuerst frische, saftige, helle Früchte. Apfel, Mango, Ananas, Mandarinen, Orangen – ein üppiger Obstsalat. Dazu kommt dann eine schöne Honigsüße und versteckte Vanille Dezente Schokoladennoten machen sich bemerkbar. Der Alkohol ist sehr gut eingebunden. Die fast 60% sind so nicht erkennbar.
 
Geschmack: Gleich im Antritt eine ordentliche Honigsüße gefolgt von Ingwer und Pfeffer. Die Früchte sind hier etwas reifer und süßer; dazu etwas Bitterorange. Die Schokolade kommt wieder hinterher und bringt die Vanille mit. Das Mundgefühl ist cremig. Die Schärfe wirkt wärmend. Der Geschmack wird etwas herber. Mit etwas Wasser wird der Whisky noch cremiger, fast ölig. Die Schärfe bleibt, ist aber angenehm. Die Süße wird intensiver.
 
Abgang: Lang und süß. Auch die Schärfe bleibt und wärmt. Ganz zum Schluss kommt die leichte Bitternote und bleibt, ist aber keineswegs störend.
 
Fazit: Mit Honig gesüßter Obstsalat, gewürzt mit Ingwer und Orangenschale. Eine herrliche Komplexität in der hellen Variante.
Link zur Whiskybase