Douglas Laing - Old Particular - Consortium Of Cards - 50% Vol.
Ich habe tatsächlich eine der 665 Flaschen bekommen. Und das, wie ich meine, zu einem durchaus annehmbaren Preis. Ich konnte bei der Gelegenheit noch meinen Gutschein von der 'Timorous Beasty 40'-Aktion einlösen, womit dann auch die Transportkosten gedeckt waren :-). Die Flasche passt perfekt in meine Laphroaig 18er-Sammlung. Das wird mal ein richtig interessantes Vergleichs-Tasting. Original 18er gegen zwischenzeitlich drei UA.
Hier die Beschreibung im O-Ton des Herstellers (eigene Notes folgen, allerdings nicht ganz so zügig, wie beim Bacalta)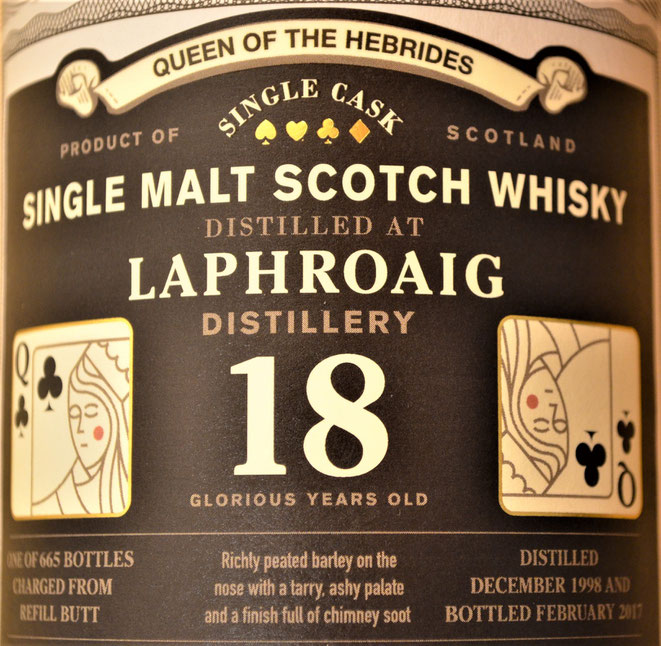 Douglas Laing's "Old Particular" is a particularly unique series of individually hand-selected aged Single Cask Malts and Single Cask Single Grains from all over Scotland. Each is bottled exactly the way the distiller intended: Without colouring, or chill-filtration.
Our Old Particular Consortium of Cards Collection is a series of four limited edition Single Cask releases, beginning with the "Queen of the Hebrides"; this Old Particular Laphroaig 18 Years Old. Distilled in December 1998, it was bottled at 50% after 18 long years spent maturing in a Refill Butt.
It is one of 665 bottles available.
Richly peated barley on the nose with a tarry, ashy palate and a finish full of chimney soot.