52% Vol. - Ex-Bierfässer
Die Edition Dreifaltigkeit ist die rauchige Linie der Destillerie. Die Gerste wird mit Torf aus dem Appenzeller Hochmoor gedarrt. Dazu kommt weiches Wasser aus den Bergen, direkt von der Quelle. Jim Murray war der Meinung, dass dieser Whisky mit tiefer Ehrfurcht genossen werden muss und kürte ihn 2010 zum 'European Whisky of the Year'. Gereift wurde der Whisky in ehemaligen Bierfässern aus europäischer(?) Eiche.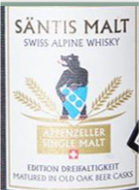 Aroma: rumartige Noten, Melasse, dunkle Früchte, Papaya, im Hintergrund etwas Lagerfeuer, mit der Zeit Früchtekuchen 
Geschmack: voll und cremig, kräftige Süße mit Räucherspeck und geräucherter Forelle, Asche. Mit leichter Verzögerung kommen die Früchte und eine Würze. 
Abgang: Mittellang. Süss, Asche und Räucherfisch 


Sicherlich ein überraschend komplexer und interessanter Whisky, aber definitiv nicht mein Beuteschema.