Der zweite im Bunde, die Edition 08.2 trägt den Beinamen 'European Oak'. Sechs Jahre lang reifte der Whisky jeweils in 2nd-Fill-Fässern, die zuvor französischen Sauternes- und Mourvèdre-Wein bzw. österreichischen Süßwein enthielten. Anschließend wurden diese vermählt und weitere zwei Jahre in italienischen Amarone-Fässern verfeinert. In den Informations-Broschüren wird es als ACE (=Additional Cask Enhancement; zusätzliche Verfeinerung durch den Einsatz weiterer Fasstypen) bezeichnet.
Diese Abfüllung ist für den Duty-Free-Markt vorgesehen.
58,4 % vol. - 8 Jahre - Mourvèdre, Sauternes, Süßwein, Amarone - 36000 Flaschen – nicht gefärbt, nicht kühl gefiltert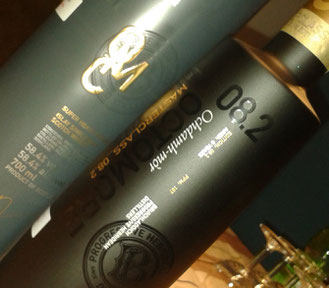 Farbe: Kupfer.
Aroma: Deutliche, allerdings weiche Rauchnoten mit maritimem Einschlag (und das, obwohl ich das Glas noch nicht an der Nase hatte). Rote Trauben, Malz, ein klein wenig Asche. Verhaltener Speck und Backpflaumen. Mit einem Mal kommen Brombeeren und Himbeeren. Eine Spur Schwefel ist auch da. Mit etwas Wasser riecht man Cappuccino und der Rauch wird schwächer.
Geschmack: Kräftiger, dunkelfruchtiger Antritt mit einer gewissen Schärfe. Diese verfliegt recht schnell und macht der Süße und einer leichten Würze Platz. Rosinen, dunkle Schokolade und Minze. Mit Wasser wird er cremiger, schokoladiger und malziger.
Abgang: Lang, süß und... schau an, da ist der Rauch wieder.
Fazit: 'The dark side of the Masterclass'. Viele warme, dunkle Aromen und voll im Mund. Die Eindrücke von Auge, Nase und Mund sind im Einklang.