(enthält nicht-bezahlte Werbung aufgrund Produktpräsentation )
Seit Oktober diesen Jahres gibt es bei der Whisky Stube in Neckarsulm eine neue Abfüllung aus der Reihe Spirit of the Cask. Nach Bosch, Rabel, Saillt Mòr und Kemper kommt der Grundstoff dieses Mal aus der Waldhornbrennerei Klotz in Buchenbach. Die Brennerei ist wohl am besten bekannt durch ihren Rechtsstreit mit der Scotch Whisky Association. Seit sie diesen verloren hat, darf sie ihren Whisky nicht mehr 'Glen Buchenbach' nennen. Seither heißt er 'Buchenbach GOLD'. Nach drei Jahren Reifung in einem Oloroso Sherryfass in der Waldhornbrennerei, wurde der Whisky am 27.11.2019 in das Jamaia-Rumfass von Ralf Brzeske umgefüllt. Dort durfte es drei weitere Jahre Aromen sammeln. Im Oktober 2022 wurde der Whisky dann im Gesamtalter von 6 Jahren mit einem Alkohlgehalt von 54,66 % Vol. abgefüllt. Mit dem Originalwhisky bin ich nie so recht klar gekommen. Daher ist es interessant, was die drei Jahre im Rumfass aus dem 'nichtGlen Buchenbach' gemacht haben. 
54,66 % Vol. - deutscher Single Malt Whisky - Oloroso Sherryfass, Jamaica Rumfass - 6 Jahre - nicht gefärbt, nicht kühlgefiltert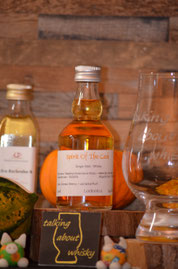 Auge: Farblich ein klarer Bernstein bildet die schwer wirkende Flüssigkeit, einen dicken Film an der Glaswand, aus dessen Rand sich eine feine Perlenschnur bildet. Aus dieser lösen sich langsam feine Tropfen und fließen zögerlich nach unten.
Nase:  Eine cereale Süße zeigt sich, wie Hafermilch  Es folgen florale Noten. Die Aromen wechseln von leicht und hell zu schwer und dunkel. Reife tropische Früchte tauchen auf. Eine pfeffrige Schärfe liegt über allem.
Mund: Süß und scharf zugleich im Antritt. Dann wieder die tropischen Früchte, dabei Ananas. Deutliche Kakaonoten kommen dazu. Mit der Zeit wird er etwas würziger.
Nachklang: Der Nachklang hält sich nur verhältnismäßig kurz und wechselt zwischen Süß und würzig.
Fazit:  Im Gegensatz zum Original kann mir dieser Whisky recht gut gefallen. Die Nachreifung bringt deutlich vollere und dunklere Fruchtaromen und macht den Gesamteindruck wesentlich harmonischer.
Weitere Abfüllungen von Whisky Stube:
Spirit of the Cask - Roggen Whisky 2015/2020
Spirit of the Cask -  Saillt Mór - Jamaika Rumfass finish
Spirit of the Cask - Owen Albdinkel - Jamaika Rumfass Finish