(enthält nicht-bezahlte Werbung aufgrund Produktpräsentation )
Die Nummer IX der Abfüllungsserie Spirits of the Forest von whic.de kommt von Ben Nevis. Der Single Malt wurde 2014 destilliert und reifte 8 Jahre in einem Port Pipe. Mit 47% Vol. wurde er in kräftiger Trinkstärke abgefüllt. Kühlfilterung ist somit nicht nötig und er kommt auch ohne Farbstoff aus. Auf dem Label findet sich diesmal die Illustration eines weisen Raben. Die Auflage der Abfüllung ergab durch die Größe der Port Pipe ganze 811 Flaschen, was wohl auch der Grund dafür ist, dass die Abfüllung zum heutigen Zeitpunkt (Datum der Notes) noch verfügbar ist.
47 % Vol. - Single Malt Scotch Whisky – Port Pipe – 8 Jahre 2014/2023 - Fass Nr. 235, 811 Flaschen - nicht gefärbt, nicht kühlgefiltert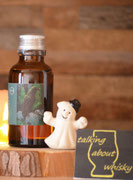 Auge: Wie dunkler Bernstein mit einem leichten Ockerton zeigt er sich in der Farbe. In der Bewegung durchaus schwerfällig, hinterlässt er einen verhältnismäßig dünnen Film an der Glaswand. Aus diesem lösen sich zahlreiche feine Perlen.
Nase: Dunkle, reife Früchte und kräftiges Karamell zu Beginn. Es folgen ebenso dunkle Holznoten und Vanille. Mit zunehmender Temperatur zeigen sich immer deutlichere Pfirsicharomen und eine dezente Pfefferschärfe.
Mund: Leicht und cremig ist der Antritt, mit Vanillepudding und Rosinen. Trockene Holzaromen folgen, ebenso herbe Bitterschokolade. Weitere dunkle Früchte tauchen auf und auch die dezente Pfefferschärfe.
Nachklang: Die würzigen Aromen haben die größte Ausdauer, aber auch die Süße hält sich recht lang.
Fazit: Ein durchaus ansprechender Tropfen. Leider kommen mit der Zeit die trockenen Aromen und die Schärfe in den Vordergrund und verdrängen die schönen Früchte. Das gibt für mich leider einen leichten Punktabzug.