(enthält nicht-bezahlte Werbung aufgrund Produktpräsentation )
Dieser Secret Speyside kommt von einem unabhängigen Abfüller, von dem ich bisher noch nichts gehört hatte. Ferg&Harris verspricht hohe Qualität und beschreibt den Herstellungsprozess wie folgt:
'FIRST, WE SEEK OUT TOP-CLASS SINGLE MALTS. NEXT, EACH CASK IS DECANTED INTO ANOTHER CAREFULLY CHOSEN BARREL. THEN WE WAIT. FOR FINE WHISKIES AND MATCHED WOOD TO DO THEIR MAGIC. FINALLY, OUR REMARKABLE LIQUIDS ARE BOTTLED FOR A LUCKY FEW.'
Der Speysider erhielt, nach einer 12 Jahre währenden Reifung in in 1st fill Bourbon Barrels, ein 6-monatiges Finish in einem 1st fill PX Sherry Hogshead. Er wurde anschließend mit 55,7 % vol. abgefüllt.
55,7 % Vol. - Single Malt Scotch Whisky - PX Sherry Cask Finish - 12 Jahre - 1192 Flaschen - nicht gefärbt, nicht kühlgefiltert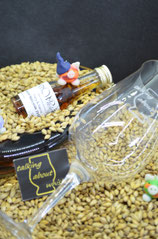 Auge: Die Farbe zeigt sich als dunkles Rostbraun. Weich und cremig bewegt sich der Whisky. Ein dicker Film bildet sich an der Glaswand und es entstehen viele feine Legs.
Nase: Kräftige, dunkle Beerensüße, Rosinen, Karamell und Brownie. Ein wenig poliertes Leder und etwas trockenes Holz. Der Alkohol treibt die Aromen, sticht aber sonst in keinster Weise hervor.
Mund: Der Antritt im Mund ist eher herb. Die Süße kommt erst an zweiter Stelle, mit überreifen Früchten und Rosinen. Ebenso trockenes Holz. Eine spürbare, wärmende Pfefferschärfe taucht auf. Das Mundgefühl zeigt sich fast adstringierend.
Nachklang: Der recht lange Nachklang wird dominiert von der wärmenden Schärfe.
Fazit: Der Whisky zeigt einen deutlichen PX-Sherry-Einfluss mit den Rosinen und den dunklen Früchten. Sehr viel mehr darüber hinaus allerdings nicht. Sehr gut für Freunde von süßen PX-Abfüllungen, vermutlich mit etwas getrübter Freude durch den ambitionierten Preis.