(enthält nicht-bezahlte Werbung aufgrund Produktpräsentation )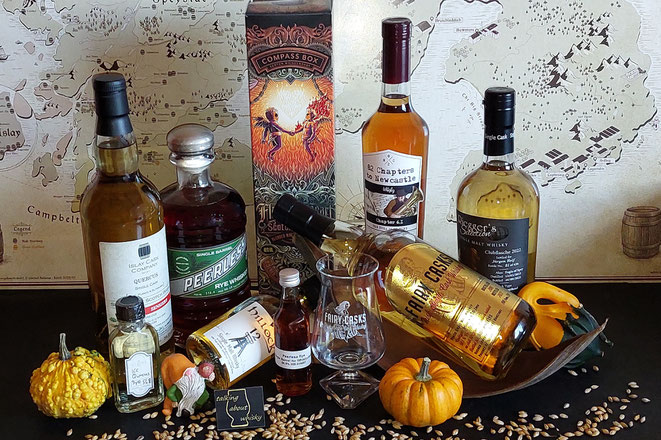 Im September ging es märchenhaft los. Als erste Flasche des Monats durfte die sechste Ausgabe der Feen-Reihe von Mareike Spitzer (irish-whiskeys.de). Bei einem Blogger-Treffen am 10. September ließ ich mir kurzentschlossen von Whisky-Jason den Peerless Rye mitbringen, nachdem Dirk Lunken (Malzkanzlei) die Abfüllung in einem Post gelobt hatte. Dann war erst mal eine Weile Ruhe. Zum Monatsende ging es dann Schlag auf Schlag. Es ergab sich bei 82 Chapters und bei der Islay Cask Company die Möglichkeit Rabatt-Gutscheine einzulösen und das neue Flaming Heart von Compass Box war plötzlich verfügbar.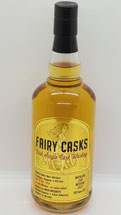 Fairy Casks 6 - Irish-Whiskeys.de  -  6 Jahre - 58,1 %vol - Ex-Bourbon, STR Cask
Dies ist bereits die sechste Abfüllung aus der 'märchenhaften' Abfüllungsreihe von irish-whiskeys.de. Dieses Mal ist es ein peated Single Malt und es waren STR-Fässer mit von der Partie.
(Notes)
Peerless Rye 2017 Single Barrel - 4 Jahre - 56,5 % vol - 
Angespitzt auf diese Abfüllung hat mich die Beschreibung von Dirk Lunken. Da ich am selben Tag Whisky-Jason noch treffen sollte, habe ich mir bei ihm eine Flasche und ein Sample bestellt und gleich mitbringen lassen.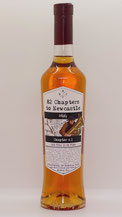 82 Chapters to Newcastle 2011 Chapter 6.1 -  49 % vol - Bourbon Barrel / 1st Fill Marsala Cask Finish
Von 82 Chapters hatte ich noch einen Gutschein, den ich endlich einlösen wollte. Vermutlich durch den veralteten Link in der Gutschein-Email bin ich auf der alten Webseite von 82 Chapters gelandet, auf der der Whisky noch als verfügbar gelistet war, obwohl er eigentlich schon ausverkauft war. Danke an 82 Chapters, dass sie für mich in die Reserve gegriffen haben.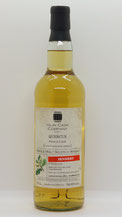 Quercus - Bunnahabhain 2013 Islay Cask Company - Casks, Plants and Blossoms - 9 Jahre - 56,8 % vol - Ex-Bourbon
Auch von der Islay Cask Company hatte ich noch einen Gutschein zur Einlösung. Es gibt hier immer wieder interessante Abfüllungen, so hat mich auch dieser Bunna interessiert und durfte die Reise zu mir antreten. Ein Sample dazu konnte ich mir bei WeeAWee auch schon beschaffen. Stay tuned für die Notes.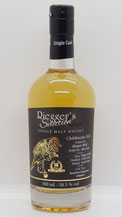 Eagle of Spey 10-year-old Riegger's Selection  - 10 Jahre - 58,5 % vol - Bourbon Hoghshead
Nach dem Caraigellachie vom letzten Jahr, ist dies meine zweite Clubflasche der  'Friends of Riegger's Selection'. Ein 10-jähriger Whisky von einer nicht namentlich genannten Brennerei aus der schottischen Speyside mit reiner Ex-Bourbon-Reifung.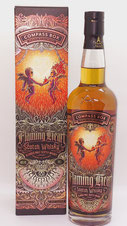 Flaming Heart 7th Edition Compass Box Limited Edition -   48,9 % vol - First & Refill Bourbon, French Oak
Der Flaming Heart aus 2015 war mein erster Kontakt zu Compass Box. Seitdem fanden viele Flaschen dieses unabhängigen Abfüllers den Weg zu mir. Deshalb habe ich schon auf diese Flasche gewartet, da sie für Deutschland für September angekündigt war. Mit dieser Flaschen habe ich nun die 4., 5., 6. und 7. Ausgabe des Flaming Heart im Regal und bin weiter auf der Suche nach der Nummer 1 bis 3. Das Sample zu dieser Flasche ist auch schon auf dem Weg.