(enthält nicht-bezahlte Werbung aufgrund Produktpräsentation )
Der 18-jährige Aberlour ist der älteste Whisky im Standardsortiment der Brennerei. Die hier vorgestellte Flasche wurde 2008 abgefüllt mit 0,7 l. Sie hat 43 % Vol. und reifte in Sherryfässern. Seit 2018 ist diese Abfüllung nur noch in 0,5 l -Flaschen erhältlich, war aber inhaltlich gleich. Die aktuelle Version, die auf der Homepage der Brennerei beschrieben wird, heißt 'Double Sherry Cask Finish' und ist 'fully finished in specially selected first fill Oloroso sherry casks, … and combined with PX sherry casks…'. Da lohnt sich vielleicht auch mal ein Vergleich.
43% Vol. - Single Malt Scotch Whisky - Sherry-Fässer - 18 Jahre (abgefüllt 06.03.2008) - gefärbt, kühlgefiltert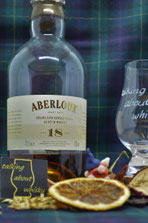 Auge: Über das schöne, dunkle Rotbraun, das sich im Glas zeigt, brauchen wir nicht lange reden, da der Whisky gefärbt ist, was nach 18 Jahren und Sherry-Einfluss vermutlich gar nicht notwendig wäre. Dafür zeigt die Flüssigkeit eine ordentliche Viskosität. Dicke Legs bilden sich an der Glaswand.
Nase: Schon beim Einschenken zeigen sich deutliche Rosinen. Direkt gefolgt von Orangen. Dazu Pfirsich und Aprikose. Auch nussige Aromen finden sich. Dann wird es würzig, Zimt, Nelken und Piment. Mit zunehmender Wärme tauchen Tabak und Leder auf.
Mund: weich und cremig fließt er auf die Zunge. Dann kommen die Orangen, eingebettet in Zartbitter-Schokolade. Auch dunkle Früchte wie Dattel und Pflaumen. Es folgen die Gewürze. Zusätzlich findet sich Eichenwürze und ein wenig poliertes Leder.
Nachklang: Der Nachklang ist nur 'fast' lang, aber vollkommen ausreichend, mit schöner Würze und malzig-fruchtiger Süße.
Fazit: Ein wunderbarer volljähriger Whisky mit ordentlicher Komplexität. In meinen Augen ein richtig schöner 'old school'-Whisky. Bleibt zu hoffen, dass sich der Nachfolger diese Qualitäten erhalten hat.