(enthält nicht-bezahlte Werbung aufgrund Produktpräsentation )
Die Heavy Metal Band Grave Digger gibt schon seit längerem immer wieder eine Whisky-Abfüllung unter ihrem Namen heraus. In der Vergangenheit kamen die Whiskys aus der Brennerei Ziegler (Aureum). Dies ist nun die erste Ausgabe der Grave Digger Reihe, die aus der Brennerei St. Kilian kommt. Der 'Tunes of War' wurde zusammen mit der zweiten Grave Digger Abfüllung 'Metal Turf Beast' Ende des Jahres 2021 in einem Online-Tasting vorgestellt (hier geht's zum Video), bei dem Axel Ritt, Mitglied der Band Grave Digger', ebenfalls dabei war.  
Für den  "Tunes of War" reifte der Single Malt Whisky in 225 Liter ex Rotwein Fässern. Grundlage für den Whisky war Heavily Peated Gerstenmalz mit 54ppm aus den schottischen Highlands.
47 % Vol. - Deutscher Single Malt Whisky - Ex-Rotweinfässer - 6340 Flaschen - nicht gefärbt, nicht kühlgefiltert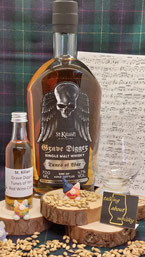 Auge: Farblich zeigt sich ein klarer Bernsteinton. Langsam bilden sich wenige größere Tropfen. Er bewegt sich eher leicht, als ölig im Glas.
Nase: Deutliche Rauchnoten, gefolgt von einer fruchtigen Süße. Rote, süße und doch leicht säuerliche, Trauben. Traubenzucker und verbranntes Holz, aber auch dezente phenolische Aromen und ein wenig Salzkaramell.
Mund: Aschige Raucharomen machen den Anfang, bevor dann Karamell, Trauben und Gewürze dazu kommen. Eine leicht wärmende Schärfe begleitet. Dann drängen wieder die Aschenoten und Eichenwürze nach vorne.
Nachklang: Eher mittellang, in der Hauptsache dominiert von den aschigen Raucharomen.
Fazit: Ein schöner Whisky mit prägnanten Rauchnoten und Würze. Im Mund fehlen mir etwas die Früchte, die in der Nase deutlich präsenter waren. Er ist mit dem dominanten Rauch ein wenig einsilbig.