(enthält nicht-bezahlte Werbung aufgrund Produktpräsentation)
Der 12-jährige Caledonia ist eine Small Batch-Sonderabfüllung, die allerdings dennoch ein Bestandteil der Classic-Range von Edradour ist. Der Whisky wurde unter Mitwirkung des Songwriters Dougie MacLean zusammengestellt und nach dessen Hymne auf Schottland benannt. Auch die Verpackung und das Etikett sind seinem Heimatland gewidmet. Das folgende Statement des Musikers findet sich auf der Flasche und der Verpackung.
"I wrote Caledonia, in 1977 on a beach in Brittany, France, when I was genuinely homesick for Scotland. My life has always been based in Perthshire. For me, the location of Edradour, with its neat cluster of whitewashed buildings, traditional equipment and employment of ancient methods of making single malt whisky, combined with its state of the art bottling facility, typify Caledonia. So it is great to be joining forces with Andrew Symington and Edradour Distillery, to bring you this wonderfully rich and complex 12 year old single malt."
Dougie Maclean
Den ersten Kontakt zu diesem Whisky hatte ich bereits vor 7 Jahren. Seitdem steht davon immer eine Flasche im Schrank.
46 % Vol. - Ex-Bourbon, Oloroso Sherry Casks - nicht gefärbt, nicht kühlgefiltert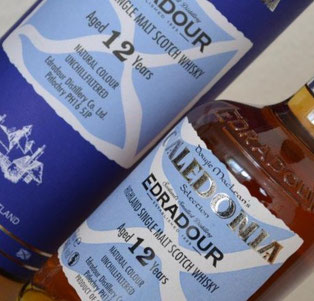 Farbe: Dunkler Bernstein
Aroma: Deutliche Sherrytöne. Sultaninen, Kirschen, Feigen. Dazu Waldhonig, Malz und leichte Würze. Die Malztöne werden immer deutlicher und werden umrahmt von Vanillenoten. Mit der Zeit spüre ich süße Orangenaromen und ein wenig Gewürznelke.
Geschmack: Das Erste, das ich schmecke, ist eine schöne Eichenwürze, gefolgt von dunkler Schokolade, Honig und Karamell. Dazu geröstete Nüsse, Rosinen und etwas Zimt. Physalis und Orangen tauchen auf. Ein schöner, vollmundiger Geschmack.
Abgang: Relativ lang. Schön würzig mit kräftigem Karamell.
Fazit: Davon darf definitiv immer eine Flasche im Regal stehen.
YouTube: Dougie Maclean & Guests - Caledonia