(enthält nicht-bezahlte Werbung aufgrund Produktpräsentation )
Drei Port Charlotte mit ähnlichem Alter und unterschiedlichen Fassreifungen. Die drei Abfüllungen aus der A Dream of Scotland-Serie aus dem Brühler Whiskyhaus boten sich geradezu zu einem Vergleich an. Zwei französische Weinfässer und ein Port-Fass liefern den Grundstoff für die Abfüllungen.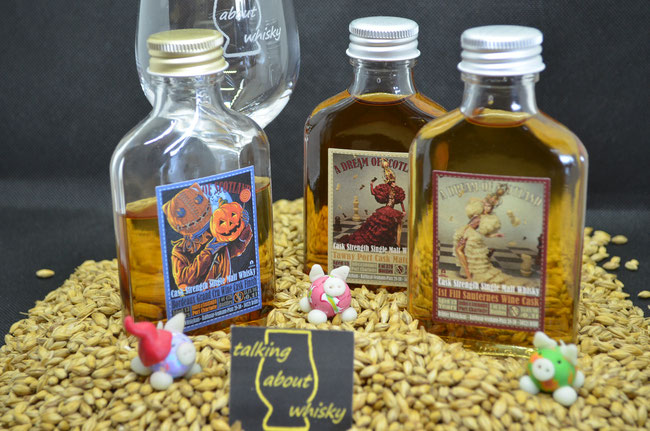 Port Charlotte 13 Jahre - Bordeaux Grand Cru Wine Cask Finish - A Dream of Scotland
Der erste Kandidat ist eine verspätete Halloween-Abfüllung, was deutlich an den skurrilen Kürbisköpfen auf dem Etikett zu erkennen ist. 
Der Whisky durfte insgesamt 13 Jahre reifen und erhielt ein Finish in einem Bordeaux Grand Cru Fass. Abgefüllt wurden 478 Flaschen. 
55,1 % Vol. - Single Malt Scotch Whisky - Ex-Bourbon, Ex-Bordeaux Finish - 13 Jahre - 478 Flaschen - nicht gefärbt, nicht kühlgefiltert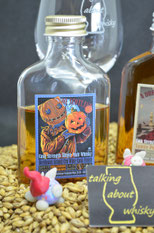 Auge: Ein goldbrauner Ton mit einem Tick Orange findet sich im Glas. Beim Schwenken hinterlässt die träge Flüssigkeit einen feinen Film an der Glaswand und bildet erst eine feine Perlenkette und dann dicke, zähe Tropfen.
Nase: Süße Rauch von kaltem Lagerfeuer und einer Spur BBQ-Gewürz. Kandierte Mandeln, auch etwas Salzkaramell und Orangen.
Mund:  Deutliche süße, dunkle Früchte, begleitet von ebenso deutlicher Chilischärfe. Mit etwas Wasser zieht sich die Schärfe zurück und gibt der Süße mehr Platz. Trauben kommen dazu. Auch Schokoladennoten finden sich.
Nachklang:  Der Nachklang ist überraschend kurz und vor allem von Süße geprägt.
Fazit:  Schöne, kräftige Süße definiert den Whisky, die im Mund sogar den Rauch übertönt. Etwas Wasser ist hier hilfreich, um die Chilischärfe etwas zu bändigen.
Die beiden anderen Kandidaten sind als Doublette erschienen. Die Etiketten zieren zwei Damen auf einem Schachbrett. Für die Sauternes-Abfüllung ist es eine weiße Dame und für die Port-Abfüllung passenderweise eine rote. Diese Doubletten-Abfüllungen kamen in 0,5 l-Flaschen auf den Markt.
Port Charlotte - 13 Jahre 1st Fill Sauternes Cask - A Dream of Scotland
Dies ist die erste und jüngere der Doubletten-Abfüllung. Der Whisky durfte volle 13 Jahre in dem Fass reifen, das zuvor den französischen Süßwein beinhaltete. Insgesamt wurden 342 Flaschen abgefüllt.
54,6 % Vol. - Single Malt Scotch Whisky - 1st Fill Sauternes Cask - 13 Jahre - 342 Flaschen - nicht gefärbt, nicht kühlgefiltert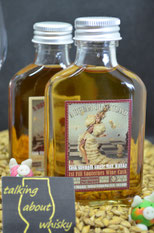 Auge:  Die Farbe geht in Richtung Terracotta. Der Whisky ist recht ölig. In dem dicken Film bilden sich viele schwere Legs, die ein dichtes Streifenmuster an die Glaswand malen.
Nase: Angebrannte kandierte Früchte und kandierte Nüsse. Der Rauch versteckt sich hinter der Süße und zeigt sich nur dezent, verbunden mit hellen Traubennoten und Schokolade.
Mund:  Hier ist der Rauch auf Augenhöhe mit der Süße. Helle überreife Früchte mit Schokolade und gerösteten Nüssen. Das Mundgefühl ist cremig und voll.
Nachklang:  Der Nachklang ist lang und süß mit Vollmilchschokolade.
Fazit:  Ein schöner, cremiger Whisky mit viel Süße. Der Rauch ist sehr gut eingebunden und spielt eher unterstützend mit. Eine leckere Abfüllung.
Port Charlotte - 15 Jahre Tawny Port Cask - A Dream of Scotland
Dieser Teil der Doublette durfte 2 Jahre länger im Fass liegen. In diesem Fall ein Tawny Port-Fass. Das Fass lieferte noch 379 Flaschen.
53,4 % Vol. - Single Malt Scotch Whisky - Tawny Port Cask - 15 Jahre - 379 Flaschen - nicht gefärbt, nicht kühlgefiltert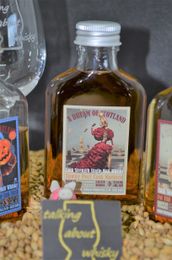 Auge:  Der Whisky zeigt einen schönen dunklen, rotbraunen Ton. Die Viskosität ist verhältnismäßig gering und die Legs sind ebenso verhältnismäßig kurzlebig.
Nase:  Geröstete Nüsse mit Schokolade. Dunkle, süße Früchte mit sehr gut eingebundenem Rauch. Dunkle, volle Aromen. Die Früchte werden überreif und der Rauch etwas deutlicher.
Mund:  Schokolade mit Raucharoma. Verhaltene Schärfe treibt die Aromen. Rosinen und Backpflaumen. Auch hier zeigt sich der Rauch sehr gut eingebunden in die anderen Aromen, die von der Schärfe ein wenig getrieben werden.
Nachklang:  Langer, süßer Nachklang mit weichem Eindruck.
Fazit: Wunderbar weich, mit angenehmer Süße und angenehmen roten Früchten. Der ausgewogene Rauch umrahmt das ganze Bild der Aromen.